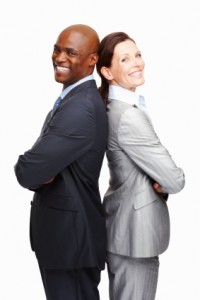 In yet another reality check about the American workplace Best Buy Co. has settled a race and gender lawsuit. Best Buy one of the largest electronics retailers in the country agreed to amend its human resource policies the suit claimed routinely discriminated against diversity and women.

The lawsuit accused Best Buy of promotional and hiring practices that specifically discriminated against, black, latino Americans and women. Nine plaintiffs are to share $290,000 in the monetary award. The settlement also denies any award to potential plaitiffs who were seeking class-status. The door is still open for individual lawsuits however, class action and multi-party lawsuits always carry greater weight with the EEOC.
Once again it appears the lawyers are big winners. under terms of the settlement Best Buy will pay up to $10 million in lawyer fees and costs!
James M. Finberg a lawyer for the employees states, "We think these changes in company procedures will improve conditions for all Best Buy workers, and that is ultimately the purpose of a civil-rights suit such as this..The selective tap on the shoulder is no longer going to be the way workers learn what other positions are available."
In the proposed settlement Best Buy agrees to make changes that would allow all employees to apply for positions through a transparent electronic registry. Best Buy through a press statement said the settlement will, "enhance the equal employment opportunities of the thousands of women, African Americans and Latinos employed by Best Buy nationwide."
One things certain, the American workplace is still saturated with an attitude and intent of discrimination and intent to violate the rights of career seekers and employees.