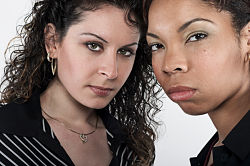 According to the (EEOC) Equal Employment Opportunity Commission, retaliation claims have increased approximately 100% from 1992-2006! Retaliation claims now comprise 30% of the total charges filed. These claims are now pushing race discrimination for the top spot.
What is workplace retaliation?

If your boss punishes you for being involved in legally protected activity it becomes retaliation. I thank GOD this blatant form of harassment is illegal. I have had first hand experience with being retaliated against by my employer. Retaliation can take on many disguises, such as;
unfair or inaccurate job evaluations
inappropriate discipline
unjustified shift change
demotion
reduced salary
job reclassification
bullying (intimidation)
termination
You may not believe this but it is absolutely true. I have experienced every one of the aforementioned adverse actions from my employer! Those who know my story marvel at the fact I'm still employed. I give first credit to GOD Almighty for giving me the wisdom to Learn Basic Employee Rights! That is why I'm so passionate about raising awareness and educating others to do likewise.
Workplace retaliation can very insidious and subtle. There are three basic areas involving retaliation, they are…
Protected activity
Adverse employment action
Casual connection
#1

Protected Activity

In Protected activity there are two different elements: opposition and participation
Here are some examples of Participation:
helping co-workers with discrimination claims
talking to a (EEO) Equal Employment Opportunity officer
being a likely witness
talking about filing a complaint
Employees have been given a wide berth when it comes to protected activity in participation. Typically, when involved in any investigation, hearing, providing testimony, assisting someone else or making a claim the employee is protected from retaliation.
Here are some examples of Opposition:
peace protests (picketing)
inquiring if gender is the reason for an employment action
declining to perform an assigned task believed to be discrimination
requesting a reasonable accommodation
expressing intent to file a complaint
The one issue with opposition is that is has to be "reasonable". I know, what is deemed "reasonable". Well the following and hopefully some common sense, which isn't so common anymore, will explain better. These are some NON PROTECTED actions not considered "reasonable" opposition by the employee.
violating established employer policy
willfully undermining company business activity
refusing to comply with non discriminatory commands
abusive or violent protests
There is a significant difference between "participants" and "opposers". "Opposers must act in "good faith" or honest intent when believing the boss has violated their employee rights. However, "participants" usually do not have to share a belief of wrongdoing on the part of the employer. For example, a co-worker is protected in assisting my investigation of the boss violating my (ADA) Americans with Disabilities Act rights without believing or knowing my rights have been violated.
I will explain the #2 and #3 areas involving retaliation, "Adverse Action" and "Causal connection" next post coming soon!
More Blessings To Come!
Yancey