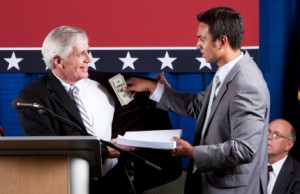 It appears some Law Makers in Missouri want to turn back the clock on hard fought for workplace discrimination laws. Employees that may have been wrongfully terminated will have a "steeper" mountain to climb proving it. The Missouri State Senate approved a law that also limits the monetary damages won by former employees.
The Bill's supporters say, "the law will make Missouri more attractive to businesses."!! Hmmm…so telling investors come to Missouri we make it easier for YOU to violate employee rights is good business??
"Brad Lager, R-Savannah, said that his bill was an attempt to bring Missouri's employment discrimination laws back into alignment with federal standards. He said that in the past, the state's workplace discrimination laws " Continue reading here…..
Discrimination tougher to prove under Senate-approved plan …