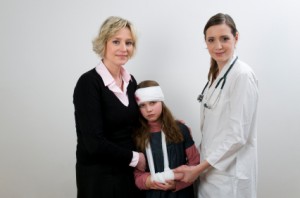 A recent court ruling (Baham v. McLane Foodservice Inc., 5th Cir., 7/1/11) of an unusual case has further defined what "care" means under the Family Medical Leave Act. The new ruling gives your employer greater control to dictate your movements when taking FMLA leave.

Girard Bahams' family was vacationing in Honduras when his daughter suffered a head injury in a fall. After flying her to Miami for treatment Mr. Baham informed his employer, McLane Foodservice in Texas.
His boss told him to "take as much time as he needed." Baham filled out the required FMLA forms requesting six weeks of leave however he didn't fill in the dates she was to receive treatment. A month later Girard left his family in Miami and went back to Texas. He cleaned his house, cut grass and used safety accommodation for his daughter by inserting padding on the corners of furniture. He remained in contact with his family in Miami by telephone. He didn't inform his employer when returned to Texas.
After his daughter and wife also came home he went back to work on the specified FMLA date. However, his employers' HR director asked for more information because of his FMLA paperwork was incomplete. Mr. Baham later turned in his company ID and keys to a security guard. McLane Foodservice viewed this as Baham resigning by sending him a termination letter. Mr. Baham said he was terminated as a pretext for retaliation for utilizing his rights under FMLA. Girard Baham filed suit against his employer….and lost! The court ruled in favor of his employer. The court determined Mr. Baham didn't qualify for the two weeks of FMLA because he didn't show he was entitled to whole six weeks requested.
The 5th Circuit reasoned FMLA entitles qualifying employees to take leave for the physical or psychological care of an eligible family member. However, the employee must demonstrate they are needed "to care for" the member of the family. The court also decided, "Courts have affirmed the use of FMLA leave only where the employee is in physical proximity to the cared-for person."
What does this case mean for employees requesting FMLA?
1. Expect your employer to develop more detailed FMLA policies. These policies will more than likely be worded requiring the employee to have some degree of participation in the care and ongoing treatment of the sick or injured family member. This participation would involve the employee been in "close and continuing proximity to the ill family member."
2. Make sure you fill out your FMLA paperwork completely.
3. Be vigilant in monitoring your employers FMLA policy being consistently applied to all employees.
According to this latest ruling the employee on FMLA leave must stay in close physical proximity of the family member(s) being cared for. "Cutting the lawn in a different time
zone doesn't cut it under the law …"
For now Long Distance FMLA "Leave" Affairs don't work.
Excerpts Source:
Mindy Chapman
Case In Point Blog