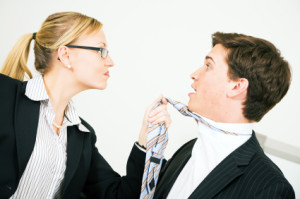 There are no federal laws protecting employees against workplace bullying. However, that doesn't mean you are helpless, far from it.
This article will help you to recognize how workplace bully behaviors are also the same for other workplace issues that do provide federal protection for employees.

This is a drama that plays out somewhere everyday in the U.S. The following scenario further illustrates the importance of Basic Employee Rights education!
Buford Bully tells co-workers that Carrie Co-Worker from Ethiopia doesn't have the "intelligence" to perform her job.
Bully Behavior – demeaning the target

Ethnic (race) Discrimination Behavior – insulting as incompetent all employees of color
Buford Bully gets promoted to supervisor and privately informs Carrie Co-Worker she can forget about any promotional opportunities.
Bully Behavior – intimidation

Possible Gender Discrimination
Buford Bully meets with Carrie Co-Worker informing her an accusation of sexual harassment has been made against her. But, no formal complaint has been made with HR. However, a letter might be placed in her personnel file.
Bullying Behavior – threats

Possible False Sexual Harassment
Carrie Co-worker complains to HR about Buford Bully's treatment of her.
Buford Bully excludes Carrie Co-worker from the FIVE YEAR employee longevity celebration.

Buford Bully gives a Carrie Co-Worker and unfair and inaccurate job evaluation.

Carrie Co-Worker is the only employee in the department excluded from inter departmental cross-training.

Carrie Co-Worker is the only employee in the department who doesn't receive a bonus.

Carrie Co-Worker's request to take a day off for Ramadan is ignored.

Carrie Co-Worker's request to take one day off every two weeks for her daughters physical therapy is denied.

Buford Bully manipulated Carrie Co-Workers work hours and time sheet to reflect less compensation.
Bully Behavior – retaliation

Possible violation of federal protections concerning….
retaliation
religious discrimination
FMLA – Famliy Medical Leave Act
FLSA – Fair Labor Standards Act
As you can see just because workplace bullying is not yet illegal doesn't mean it can't or won't overlap into areas of employment that are illegal. How about if Carrie Co-Worker officially complains to HR that…
Buford Bully's sudden unexpected yelling startled her into falling injuring her arm (workers' compensation and FMLA)
As a result of that incident she now needs an accommodation to perform her job (ADAAA – Americans with Disabilities Act Amendments Act)
Finally as a result of Buford Bully's continued unchecked bullying Carrie Co-Worker decides she has no choice but to quit (constructive discharge)
Believe it or not situations very much like the one portrayed happen routinely in the American workplace. I've heard many employees say, "I work for a good company", "I have a great boss", "We don't have those kinds of problems". Then the company gets sold or the employee gets transferred or the management changes and viola…there you are in a minefield of bullying and harassment aimed right at you!
Until bullying in the workplace is finally outlawed career seekers and employees best weapon is education about their Basic Employee Rights and understanding the nature of and cause of bullies in the workplace.
Protect yourself now by checking out this great workplace bullying resource.




Are You Tired Of Being Bullied Yet?