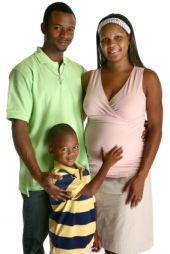 If job seekers and employees are pregnant, the employer better not violate any of the following;
pregnancy disability leave
federal pregnancy discrimination law
FMLA rights
state maternity leave laws
Our employers are not legally required to give paid maternity leave. However, the majority must abide by the(FMLA)Family Medical Leave Act and the (PDA)Pregnancy Discrimination Act.
What is the PDA?

The Pregnancy Discrimination Act makes it illegal to discriminate against employees and applicants on the basis of "pregnancy, childbirth and related medical conditions". Businesses and organizations must not discriminate against female job applicants or employees because of pregnancy or abortion.
Businesses can't terminate you because of pregnancy or force you on leave as long as you are able to perform your job duties. Here some other PDA guidelines;
You can't be forced to buy family insurance from single coverage
You can be required by your boss to use vacation benefits before disability or sick leave
Single female employees can't be denied maternity benefits
Employers must give same insurance coverage for pregnancy as other illnesses and disabilities
Here's an important tip!
Make sure you check your state's maternity leave laws! They may provide even more benefit than FMLA or federal maternity leave. The following states are examples;
California, New Jersey, Hawaii

Partial benefits for temporarily disabled employees involving medical reasons like childbirth. Temporary insurance benefits as partial wage replacement. This covers businesses with as few as five employees with a four month leave cap. This is in addition to the California Family Rights Act. Employers covered under both Acts get four months of pregnancy disability leave and 12 weeks to care for a new born child!

Tennessee

Female employees get 16 weeks of childbirth leave from private and public employers with 8 or more employees.

Rhode Island

For birth, adoption or serious illness of a child, spouse or parent, private employers of 50 or more and public employers of 30 or more must offer 13 weeks of leave in any two calendar years.
The Pregnancy Discrimination Act requires our employers to give disability and sick leave equal to other employees getting leave for temporary disability. Female employees taking maternity leave have to be reinstated equal to employees reinstated from disability leave.
All employers covered under Title VII of the Civil Rights Act of 1964 with 15 or more employees MUST not violate the PDA! If your employer uses a light duty program watch to see if it's being applied equally among all employees. If my boss allows certain employees light duty but deny it for others especially those who are pregnant that's a recipe for a lawsuit.
EEOC statistics reveal pregnancy discrimination complaints have increased dramatically in recent years. These complaints have increased about forty percent in the last ten years with a fourteen percent in just the last year. Pregnancy discrimination continues to be one of the fastest-growing category of claims with the EEOC.
If you are a career seeker or employee whether male or female learn more about how pregnancy discrimination can affect your workplace experience.