Employees are an employers most worthwhile-and usually most pricey organizational asset. Businesses want employees that match their workplace cultures. Whether that is a beneficial match for the job applicant is a critical consideration. Hiring the "wrong" employee may add up to twice the cost of a year's salary, according to some estimates.
This is one reason employers conduct background checks. Most pre-employment background check screenings are done to substantiate the info the job seeker has provided. A background search is ordinarily the best and speediest way to figure out whether or not an applicant has the required experience, education, and track record to join an organization.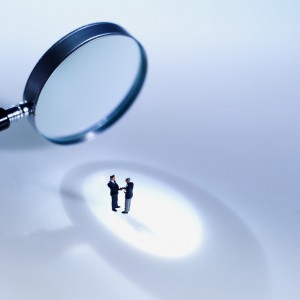 Pre-employment examinations and other background checks are under the control of the (FCRA) Fair Credit Reporting Act. The FCRA is a federal law that details how consumer credit data can be accumulated, given out, and utilized. According to the FCRA, consumers have a right to see info in their credit file and contest mistaken information and facts.
Besides the Federal law, there are state limitations that govern potential workplace screening and employment background checks. The employer and the third-party background check service it may use are required to follow all suitable regulations. Among other things, the FRCA absolutely entitles you to know the reason the company is wanting the report. The potential boss is also obligated to get your permission to do the background check and any info obtained MUST be used only in connection with the employment.
Businesses in particular industries like the medical field, banking, law enforcement, engineering, airline pilots and other transportation workers require more extensive and detailed background checks. This also applies to similar skilled services that mandate a more detailed background check essential to verifying certifications, skilled licenses, as well as other considerations. Criminal background checks are obligatory for some jobs. Positions such as teachers or others who have contact with children, the physically and mentally impaired or senior citizens.
Here are some of the types of things an employer can "look up" on us;
Credit Reports (FCRA)
Driving Records
Social Security Numbers
Job History
Unemployment payment history
Criminal records
Car registration
Bankruptcy
Military status
Education records
Character references
Sex offender lists
Job seekers and employees should know that when an employer has your social security number they will have easier access to information about you. Getting exact information and facts will require explicit permission from the individual that's the focus of employment screening. This has to be over and above just telling the job applicant. For example, a consumer reporting agency can't just hand your medical information over to an employer. They MUST get YOUR CLEAR approval to do so and that medical info MUST relate ONLY to the employment.
Career seekers should understand the difference how the FCRA is applied by a company versus a third party or "consumer reporting agency" that company may hire to do the background check. The FCRA Fair Credit Reporting Act (FCRA) sets national standards for employment screening. The Legal requirements of the FCRA only relates to background checks performed by an outside organization (consumer reporting agency). The regulations don't apply when the company performs the background checks itself.
This is really an important question for job applicants to ask the employer. "Mr. employer will you be conducting the background check or will you be using a consumer reporting agency?" "If so what is it's name?" Your particular state may have additional laws providing consumer protection connected with background checks. The term "consumer report" is also the same name given to your credit report. FCRA guidelines also dictate what can't be reported on a employee background check.
Some things that can't be used in an employment background check.
Arrest records older than seven years
Bankruptcies older than ten years
Collection accounts older than seven years
Paid tax liens older than seven years
Civil judgments and civil suits older than seven years
All additional adverse info with the exception of criminal convictions older than seven years
The potential employer has a legal obligation through state and FCRA law to provide what is called a pre-adverse action disclosure form and a copy of the consumer report. Typically, this is required when info from the report is used to not hire the job applicant. This should be provided to the job seeker before the employer "officially" makes the decision not to hire. The job applicant should be given the name of the reporting agency and a form containing the right to challenge or contest what the report says. The employer must follow exact guidelines regardless of which report credit or criminal is used in deciding not to hire the career seeker.
Job applicants should learn more about background checks and how they can be used and abused. The employer could obtain information that may violate state and Federal law. For example, potential bosses are restricted from seeking to obtain certain types of info from former employers. Finally, every job seeker and employee should make it their business to ensure whatever information revealed in a background check is 100% TRUE and ACCURATE! The obvious reason being the possibility of false, misleading or in accurate data can and very probably will cost you a job.
For more info on pre-employment background checks;
=====> http://tinyurl.com/84jxmw3